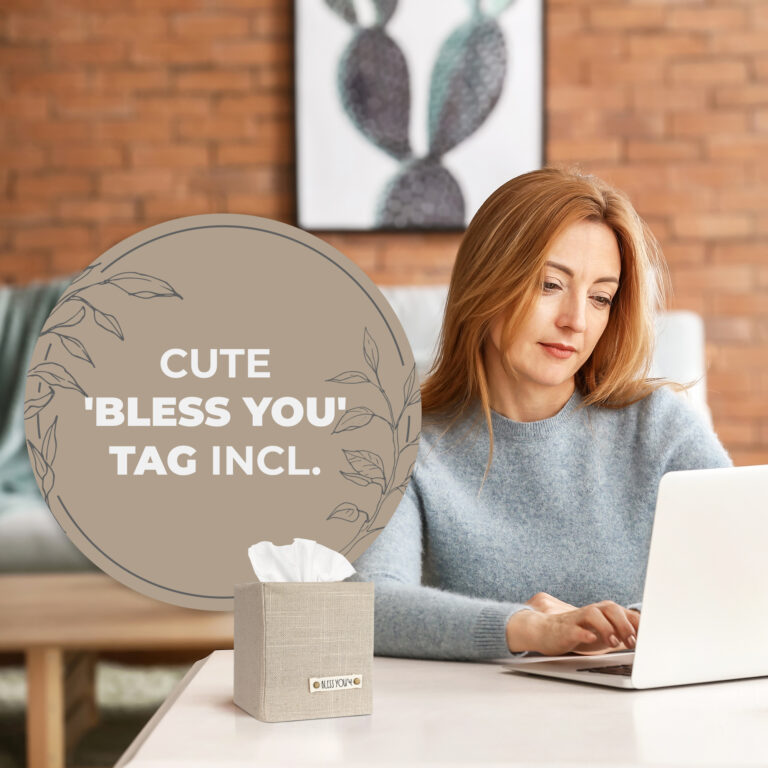 Let's Do It The Pretty Way: Give your tissue box a little beauty makeover thanks to the cute tissue box cover! No need to hide your tissue holder anymore when friends are over, with stylish covers you not only always have a tissue at hand when you need it, but also add a new decorative piece to your home decor – extra chic & practical in one!

Perfect Size To Fit Your Standard Tissue Boxes: With a clever size you are all set to beautify your Puffs or Kleenex facial tissues & any other standard tissue boxes with a size of 4.48 x 4.44 x 5.11". Decorative tissue boxes? KIBAGA has got you covered!

Truly A Beautiful Design: You'll love the gorgeous & functional design of the tissue box holder! The modern cover is simply amazing to prettify unsightly tissue boxes while also being super easy to handle with tissues coming out easy on the top! There is also a sophisticated "bless you" tag as a visual eyecatcher

Choose Your Favorite Color Out Of 3: A natural beige, sleek gray or rather classic black? The square tissue box cover is available in three trendy colors which perfectly fit any interior setting – whether at home in your bathroom, on a tabletop, on a bedside table, in your car or on your office desk

Premium Material W/ Neat Texture & Soft Touch: Made of 50% polyester and 50% cotton, the haptics of the top-notch tissue box cover is awesome! A durable, practical and charming way to dress up your tissues
A tissue box that embellishes the space? KIBAGA makes it possible with the cute tissue box cover! Tissue boxes have never looked prettier, don't you agree? Thanks to the cute tissue box cover you are all set to style your tissue boxes in a breeze and proudly display them around your home. Finally you can happily handle your tissue boxes as decor, rather thanas pure necessity. And your friends & family will love them too! Available in three colors you can choose your favorite or get one of each color to add some style to the tissue selection at home: natural beige, sleek gray or classic black? Each color is as elegant as it gets and fits with any interior. The perfect fit for your standard tissue box: the box covers are intended for use with standard Puffs and Kleenex tissue boxes as well as other tissue brands – boxes should have a size of 4.48 x 4.44" with height 5.1" to be the best fit! Have you already spotted that the cover even has decent manners? A lovely "bless you" tag attached to the cover is the politeness proof! By the way, we owe the sophisticated structure and soft feel of the fabric to the fabric blend of 50% cotton and 50% polyester. Ugly tissue box? Now a thing of the past! The KIBAGA tissue box cover is here to raise your home decor to a new level – clever, functional and super chic.